CoQ10 325mg + Hawthorn Berry 200mg
$19.99
Cardiovascular Support

*

Supports Heart Health

*

Provides Energy & Stamina

*
In stock
Ships in 2-3 business days
1000 in stock
Email to a friend
Description
Coenzyme Q10 (CoQ10) is a fat-soluble vitamin like substance, essential for proper functioning of many organs and for basic functions of cells. It is involved in generating energy in the form of ATP (Adenosine triphosphate). Ninety-five percentage of the body's energy is generated this way. Therefore, those organs with the highest energy requirements—such as the heart, liver, and kidney – have the highest CoQ10 concentrations. Coenzyme Q10 levels are reported to decrease with age and to be low in many diseases(1). It is logical to conclude that a deficiency in coQ10 in any of the body's cells would affect cellular functions, metabolic processes, and energy generation.
Crataegus pinnatifida fruits are rich in polyphenols such as epicatechin, procyanidin B2, procyanidin B5, procyanidin C1, hyperoside, isoquercitrin, chlorogenic acid, vitexin-2"-O-glucoside and vitexin-2"-Orhamnoside, rutin, and hyperosin. Biological studies showed that the hawthorn extract possessed a strong inhibitory effect against DPPH, hydroxyl radicals and lipid peroxidation. It has received much attention due its potential to reduce serum total cholesterol, low-density lipoprotein cholesterol (LDL-C) and triacylglycerols (TAG) level in hyperlipidemic humans(2).
BioPerine® is a standardized extract from the dried fruits of Piper nigrum (Black pepper) and contains a minimum of 95% piperine. Being a thermonutriet, it is a well-known nutrient bioavailability enhancer.
In a double-blind study with 12 healthy volunteers, bioavailability of CoQ10 (120 mg) was evaluated with and without BioPerine® supplementation(3). After 21 days, co-administration of 5 mg BioPerine® resulted in 30% increase in relative blood serum levels of CoQ10 compared to placebo.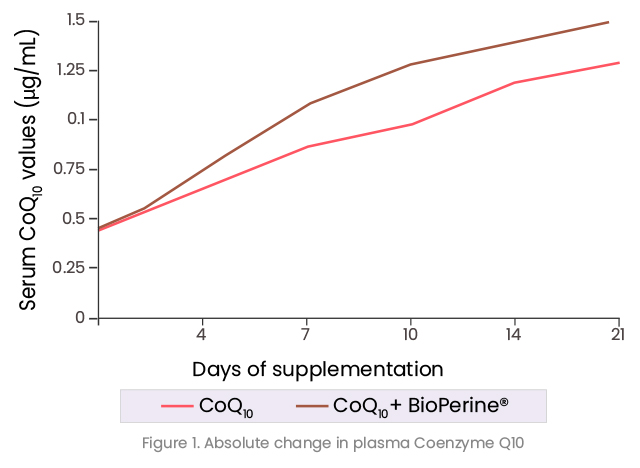 References:
1. Kapoor K and Kapoor AK. JIACM. 2013; 14(1): 37-45
2. Jurikova T et al., Molecules. 2012 Dec; 17(12): 14490–14509. doi: 10.3390/molecules171214490
3. Badmaev V, Majeed M and Prakash L. J Nutr Biochem. 2000 Feb;11(2):109-13. doi: 10.1016/s0955-2863(99)00074-1
These statements have not been evaluated by the Food and Drug Administration. This product is not intended to diagnose, treat, cure, or prevent any disease.