America's Finest, Inc. (AFI) primarily uses commercial carriers to ship our products within the United States. We charge a flat rate for shipping as follows below
Up to 2 bottles $6.99
Up to 5 bottles $7.99
Up to 10 bottles $9.99
Above 10 bottles its free of shipping
These shipping charges only apply to orders placed within the Continental U.S. We can also ship 3rd Day Air, 2nd Day Air, or Overnight an additional charge to the customer.
We generally ship all orders within 48 hours after receipt of the order. However, due to large order volumes, weather conditions, or circumstances outside of our control, there would be a delay in delivery.
Shipments or deliveries does not include weekends & national holidays
In the likely event that any product is on back order, we will ship the remainder of your order immediately and ship the balance as soon as it becomes available (with no additional shipping charges).
Below is the Ground Service Map detailing how long a shipment will take from our offices in New Jersey.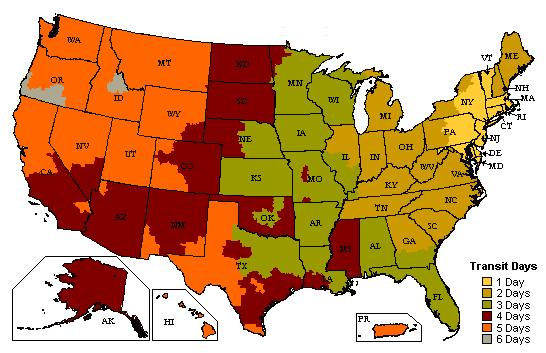 ---
Order Status & Returns
Call us Monday thru Friday from 9am to 5pm (EST) at 800-350-3305 or Email us at info@afisupplements.com with any questions regarding the status of an Order or Return.